La Faucheuse douce allégorie de la Mort.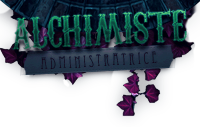 IDENTITY CARD
Messages

: 214
Je suis arrivé(e) le

: 29/11/2015
Sous les traits de

: Willa Holland
Je me dédouble

: Aodhan
Pseudo

: SUNRISE
Crédits

: SHIYA (Avatar), Tumblr & SUNRISE
Points

: 1850
J'ai

: 27 ans
Je travaille comme

: Professeur de Français à l'université d'Ottawa
Actuellement, je suis

: Pire que célibataire.
Pouvoir

: Attaque Mentale
Niveau social

: Aisée au point de ne pas compter.

I'll seek you out ,flay you alive. One more word and you won't survive. And I'm not scared of your stolen power. I see right through you any hour.



Tu es le soleil de ma vie, l'étoile de mes nuits. Certainement la plus belle réussite de ma vie.

Jeu 24 Mar - 23:14

_________________




if i lose myself.

I'm not looking for somebody who will whisper sweet nothings into my ear to feed the ravenous ego of my heart. But someone who can look me straight in the eye and say, I love you, whether you fail or fall, just as you are.